While Boeing has partially halted Boeing 737 deliveries, there still are some positive trends as well. Probably the most notable one is the return to service of the Boeing 737 MAX in China.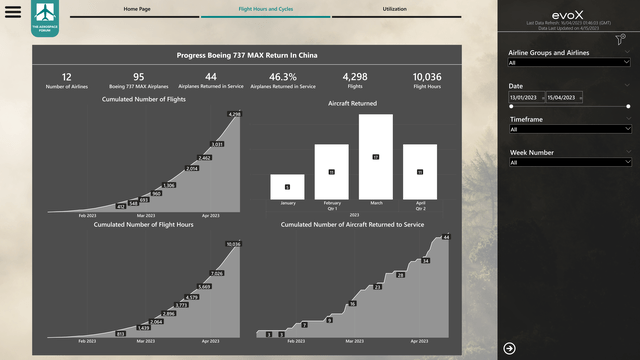 In our evoX Data Analytics software, I have loaded the flight activity of the Boeing 737 MAX in China. Using those data inights we found the following:
44 airplanes or 46.3% of the airplanes has returned to service.
Over 4,300 commercial flights have been flown.
Over 10,000 flight hours have been accumulated.
Cumulated utilization has improved from 3.3 hours to 6 hours per day.
Utilization so far in April is 6.7 hours per day.
For the week, the following results are obtained:
Week-over-week Changes Boeing 737 MAX in China
Metric
Week 15
Week 14
Difference
Returns
3
8
-62.5%
Percentage returned
46.30%
43.20%
+3.1%
Total aircraft returned
44
41
+7.3%
Flights
847
712
+19.0%
Flight Hours
2,010
1,702
+18.1%
Overall, the number of returns was down by 5 units in Week 15, but it should be noted that returns fluctuate throughout the month. The number of flights and flight hours are up 18-19 percent reflecting more aircraft in service for the full week. 
The current trend suggests that by the end of June all airplanes could have re-entered service.   
Always want the most recent updates? Sign up for a membership to The Aerospace Forum, the prime investment research service on Seeking Alpha.